With the colder months approaching and the price of oil going up; we at ValueOils.com understand that you want to stock up on as much heating oil as possible in order to save some money! But just how much boilerjuice can your oil tank take? Well, do these look familiar?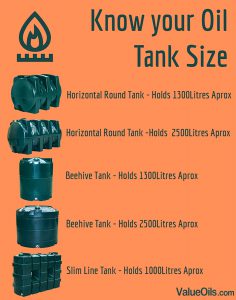 These are the most commonly used oil tanks however if your tank isn't here then hit us up on the live chat and we'll be happy to help you find out just how much you need. Even then, if you do end up accidentally ordering too much oil by mistake then we can simply reduce your order size and the value of your bill!
Here at ValueOils.com we put the hard work in so you don't have to. By comparing prices against our extensive list of suppliers we can get you the cheapest deal on your oil! So what's stopping you? Check out the Quick Quote section on our website and start saving money!